VPN (Vartual Private Network) is a very familiar word among the peoples who want to bypass geo-restrictions. There are a few quality VPN services. VyprVPN is one of them. In this article you will know about VyprVPN service.
VyprVPN:
VyprVPN is one of the internet privacy & security solutions from Goldenfrog. This is one of the fastest VPN services in the world. VyprVPN is a great service with its awesome speeds, apps and great customer support.
Features:
VyprVPN has all super features that should have in a good VPN service. It has 700+ servers around the world with 200,000+ IPs. VyprVPN has amazing speeds as well as dedicated privately owned network. It has some great apps for easily server switching. Users will get unlimited speeds and unlimited server switching facility without any restrictions. These are the major features of VyprVPN-
700+ servers in 50+ global server locations.
200,000+ IP addresses in 6 continents.
Apps for Easy Server Switching
Unlimited Speeds with great VPN performance
Unlimited Server Switching
OpenVPN™, PPTP, L2TP/IPsec & Chameleon™
Unlimited Data Usage
NAT Firewall
Dump Truck Storage
Performance:
VyprVPN performs extremely fast. There is no doubt. Users experience with VyprnVPN is just awesome. Chameleon masks its VPN to defeat VPN blocking. But still this is super fast. This is also highly  secured. Users can enjoy VyperVPN in almost all popular devices without any issues.
Customer Support:
VyperVPN provides one of the best customer support. Users can get 24/7/365 live support and email support. You will be highly satisfied with speed, efficiency and technical knowledge of their customer supports agents.
Plans & Pricing:
VyperVPN offers 3 packages to their customers. These are Basic, Pro & Premier. I don't recommend you to buy basic package. Because, it has no firewall and only supports PPTP. Pro is their mos popular package that has all features and a firewall. It supports 2 simultaneous connections. If you need more, You can choose Premier which supports 3 simultaneous connections with all features. Their is also a business package.
Pricing starts at $9.99/month. But XtremeRain.Com visitors can enjoy a 50% discount on first month. So the prices are Basic: $5/Mo, Pro: $7.50/Mo & Premier: $10/Mo. If you pay annually, you may also have addition discount. Here is the pricing details:
There is also a free package with 500 MB data limit. This is a very basic package with no good features.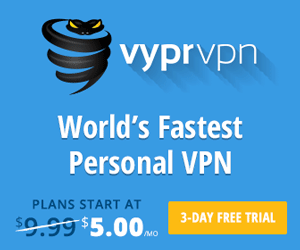 Our Score:
[wp-review]
How You will Get Started:
Go to VyprnVPN Website. Then choose a package and sign up. You may need to download a app. Then follow the instructions. For additional consultancy, contact with their customer support agents. You won't have any difficulties as VyprVPN is supported on Windows, Mac, iOS, Android and Router.
Conclusion:
VyprVPN can attract anyone with its super speedy performance. If you are looking for a super fast VPN service with awesome features, VyprVPN can be your good choice. Personally, I've no problem to recommend it to you.